Mbanq empowers any bank or company to launch and operate modern digital finance anywhere and at any scale, effortlessly, quickly and resource-efficiently. Its proprietary technology provides an advanced, modular, end-to-end banking platform with everything required to instantly launch financial services for any use case.
Key Technology Milestones
Mbanq leads a paradigm shift by using big data analytics for digital banking solutions
Solution is built on a Single Source of Truth (SSOT) architecture 

for reduced complexity and transformed efficiency

The most complete all in one system with full scope of financial products, business processes, regulatory, back and front office
Mbanq has grown to become one of the most comprehensive digital banking providers globally since its formation in 2016. Today Mbanq is one of the fastest growing FinTechs in the world, serving banks, credit unions and financial institutions of all sizes, across the USA, Europe and Asia.
Key Investor Milestones:
Industry-leading,

proprietary

, technology

Exponential client growth year-on-year

Profitable after three years

Right moment in the right market – digital banking trends mean legacy systems are being updated and replaced
Mbanq is a Silicon Valley-based FinTech. We deliver solutions and services for the next generation of banking.
Investor Vision
Mbanq leads the way in today's most explosive FinTech investment space.
Corporate Vision
At Mbanq we befriend our clients, and bring them continuous expansion and innovation on a global scale.
Mission
Mbanq brings the next generation of financial services to an interconnected world through world-leading digital banking technology.
Mbanq has built proprietary and scalable, universal digital banking technology for its key customer segments:




Mbanq provides the complete technological capabilities to create and operate a digital bank of any size. Mbanq's service also enables customers to fully comply with international and local regulatory requirements, such as GDPR, PSD2 and ISO.
Mbanq's solution is suitable for all banking products for both retail and corporate clients. From white-label mobile apps to open banking APIs, Mbanq allows customers to access best-of-breed innovations in digital banking.
Clients benefit from vastly reduced bank operating costs and complexity, delivered through a fully managed and fully supported, industry-leading banking platform.
Financial Institutions become:
Fully compliant

Flexible with services and products

Agile and able to react quickly to market conditions

Provide a modern client experience

Automated with minimal costs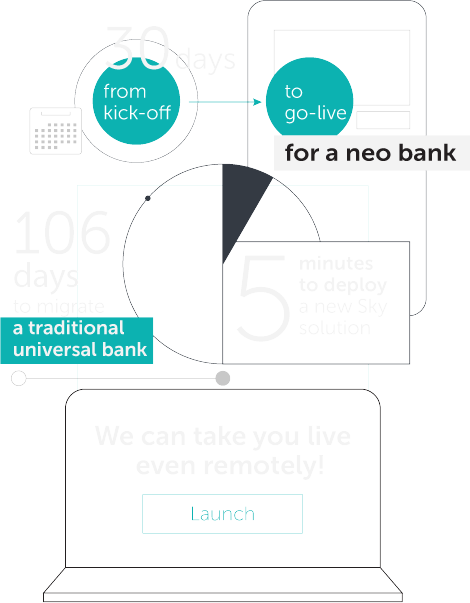 Fast and agile deployment.
Mbanq's team carefully takes you through the entire process
for a successful launch and beyond.
Solutions are ready to be deployed remotely
with limited or zero on-site meetings.