myTU Success Story – How this Mbanq partner is redefining payments and loyalty in the Travel industry

The promise of Banking-as-a-Service is simple: by embedding financial services, companies from different industries can better serve their customers and at the same time add new revenue streams for themselves.
But how does that work in the case of probably the biggest industry in the world, which billions of people consume every day?
Can the integration of digital banking capabilities revolutionize Travel, the industry so notorious for its lagging digital transformation?
If you ask Raman Korneu, financial services expert with 20+ years in Banking, his answer will be – "For sure!"
That's exactly what he set out to do with myTU – Banking-as-a-Service ecosystem focused on servicing the Travel industry.
Removing friction in Travel… with a bank!
Raman's been in Banking since 2000. After more than a decade in consulting (PwC and Ernst & Young), he became CFO and Deputy Chairman of an SME and retail-focused Eastern European bank.
"I got to know the banking business pretty well. I had a pretty good understanding that the old school banking business is not very sustainable and will be challenged."
As anyone who's done a fair share of traveling, Raman could notice how the travel industry ecosystem is full of inefficiencies, especially with regards to payments.
High currency exchange fees and acquiring fees for payments abroad are the most obvious and affect almost all travelers. Same goes for companies – travel agencies, hotel chains and airlines – which are being charged ridiculous amounts solely on fees on an ongoing basis.
Raman put together a pitch deck back in 2017 of how he sees the solution – a bank for travelers and businesses in the travel industry. "If you put a bank in the middle of the ecosystem, you have the chance to eliminate many of these inefficiencies."
He then spent some time developing the concept, finding partners and attracting investors. It was at that time that he was first introduced to Mbanq CEO Vlad Lounegov, already in the Banking-as-a-Service space.
In April 2019, Raman co-founded the company with IT expert Tomas Navickas, who also took over as CTO. Together they shaped the idea of Banking-as-a-Service for travel industry and started building the myTU mobile app as the single point of entry into a customer's money management tools and the loyalty network.
At the same time, they applied for an Electronic Money Institution license from the Bank of Lithuania.
Travel-focused startup amid a travel ban – Wonderful example of adaptability
As many know, Lithuania is one of the most Fintech-friendly countries in Europe – therefore an obvious choice to incorporate such a FinTech startup.
Bank of Lithuania was an inch close to granting an E-Money Institution license to myTU in March 2020, literally minutes before the start of the Europe-wide lockdowns.
The consequent travel ban changed everything.
"Since our business plan was so closely linked to travel, the regulator requested us to elaborate how we plan on surviving during the travel ban. We had to pivot our strategy before even launching", Raman explains.
So they focused on the family-friendly aspect of their mobile banking app. myTU has a card program for kids that includes flexible parental control, meaning that parents choose where the child's card can be used and have the option to block it if needed. With other features like Automated Allowance and Savings Account, no wonder many parents recognized the value of myTU for their family money management.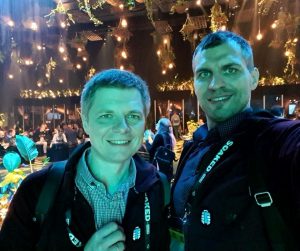 myTU co-Founders Raman Korneu and Tomas Navickas
In June 2020, the EMI license was finally granted and by September, Raman and the team were already issuing cards.
"That was probably the shortest period from obtaining the license to launching a card program. Not only it made the regulator very happy, it proved the resilience of our business model in the toughest of times. This was only possible because from the very beggining, we were working on both the licensing and the product in parallel. That's how confident we were that we can build a great digital banking platform for travel."
By the end of 2020, their license was passported to all the 29 countries of the EEA (European Economic Area), and an integration was made with SEPA that enabled myTU to start providing European IBAN accounts.
And when Covid passports were introduced in Europe and people started traveling again in the summer of 2021, myTU was ready to make a further push into Travel.
The B2B side of myTU – Save #TIME, earn #TIME
To be able to cater to the corporate side of Travel, Raman and his team launched myTU for Business, essentially a digital banking and loyalty solution for travel companies.
It enables travel companies to open accounts, accept payments from customers and use other regular banking services at lower fees, but it also has some other tangible benefits, like its marketplace solution to expand their product offerings and provide an intuitive transactional experience that helps customers buy more with less effort.
On top of all, businesses can both save and earn more by participating in a unified loyalty program called #TIME.
"The way old-fashioned loyalty programs work is not very efficient. I had it happen to me a couple of times that my airline loyalty points burned out, without me having the chance to fully utilize them." The many attempts at cobranded loyalty programs between airlines and banks, where the customer would pay with a certain card and get points, don't quite remove the friction either. "That's also far from the possibilities of today's cloud technology", Raman claims.
So Raman and his team devised the #TIME loyalty program, open to all retail and corporate users of myTU. For each transaction made, some #TIME is added to their accounts.
This way #TIME functions as an internal currency. "This makes loyalty points easily convertible between different members of the ecosystem, whether they are travel agencies, hotel companies or airlines. Also, integration into the program is simple plug-and-play. Company simply opens an account with us and that's it."
The cross-marketing opportunities that such a program creates are significant. With every new member of the ecosystem, opportunities keep growing.
Another myTU benefit for travel businesses is that traditional banks perceive some of them as substandard. "Banks require high deposits to secure settlements, and oftentimes they will hold on to money. When they do transactions through myTU, verified individuals and businesses pay within this ecosystem and our commission is zero."
Future plans
At the time of writing (November 2021), myTU has customers from 36 countries and a new customers' onboarding growth rate of 50-60% per month.
On the retail side, the goal is to make best travel deals more affordable through integrations with marketplaces and further adoption of the #TIME loyalty program.
On the corporate side, CEO Raman Korneu sees myTU and its solutions as a vehicle for travel businesses to easier overcome the Covid crisis. Currently most of the travel businesses they've onboarded come from southern European countries like Spain and Greece, where the majority of leisure travel activity takes place.
And from the technical point of view, myTU has the entire transactional business set up and aims at expanding to loans. That's why they're currently working towards obtaining a banking license.
With the travel market once again showing signs of growth and prosperity, a full banking license would add even more benefit to myTU's value proposition.
"With a unique combination of a comprehensive banking and loyalty solution and focus on travel and hospitality industry, there's every chance myTU will be able to build a new kind of bank and became the provider of choice for travel-related products and services", CEO Raman Korneu concludes.